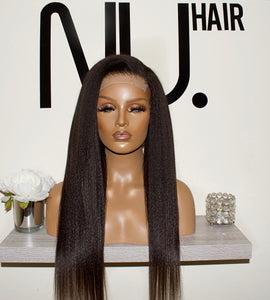 Thick kinky straight closure wig

- 5x5 Swiss Lace closure with bundles of our raw kinky straight hair.
- 
Only available in Swiss lace 
- Can be worn straight or styled
- Custom made wig and ready to wear. 
- Made with a spandex dome cap and can have an extra elastic band added for extra security. We do not use combs  and clips as they can be damaging to your natural hair and scalp. 
- Comes in a satin bag to help protect your wig and keep your hair glossy and healthy.
Only available in Swiss lace 
Can't find the perfect wig for you? Try our custom wig builder 
Processing time : 2-3 weeks - no refunds for not acknowledging our processing time.